For today's" Work it Wednesday" I found this darling and versatile blouse from Forever 21.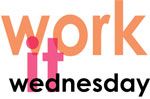 I know some of you love F21 and some hate it.
This is what I tell my clients about F21.
#1 The website is less overwhelming :)
#2 Treat your F21 clothing like you'd treat your designer pieces
- wash with care( I use the hand wash setting on my washer) , NO DRYER
- store properly
#3 Everything in F21 isn't great, there is a hunt involved !
#4 If you don't have the patience hire me and I will do it for you!
- When you shop with me EVERY store has amazing service.
(because I am waiting on you, hunting for you, and I know what you need!)
#5 If they don't last your only out $25 ;)
So without further ado...